By Cassie Pence
Lillian Brodie, 11, is standing behind baskets of fresh vegetables underneath a tent at the Four Way in Crested Butte. It's the final day of Mountain Roots' weeklong Farm to Table camp and she's selling the produce. Having harvested the veggies herself from one of Mountain Roots' six community gardens, with great pride Lillian describes each one to a customer.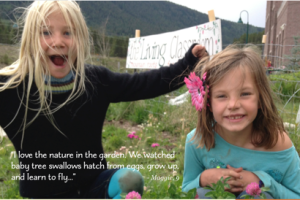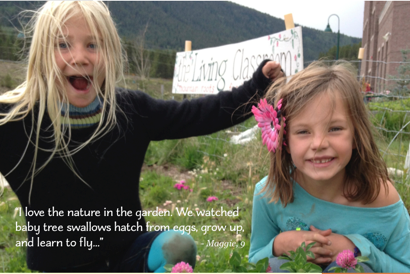 "We have beets, onions, carrots, plain lettuce mix and spicy lettuce mix. This is great cilantro. This is fresh broccoli, not store bought. And we have peach mint jam … and it's sooo good," she beams.
Lillian should know, because with the help of other campers, she made the jam, pickles, and homemade bread. The camp takes kids into the garden, where they learn to harvest and explore different parts of the plant, and then into the kitchen where they chop, taste and cook.
"Kohlrabi is my favorite. It just tastes good. I like the texture. It's the same as a radish but not as spicy," Luka Loperfido, 10, said.
Campers also toured local markets, using math skills to compare prices, and got a lesson in socio-economics as they harvested and donated vegetables to low-income families as part of Mountain Roots' Backyard Harvest program. Mountain Roots is a local nonprofit dedicated to creating a sustainable and resilient local food system. Through education and production, Mountain Roots strives to connect people to food, earth, and the community.
"We get to help people who can't afford fresh food. They go to McDonald's because it's cheap. But we want them to have fresh grown foods," explains Lhotse Wyckoff, 11.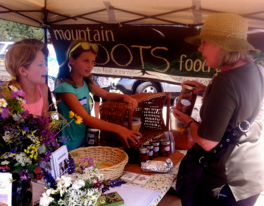 The Farm to Table camp, along with Roots and Shoots for younger children, is the summer component of the Mountain Roots' larger Farm to School program, which operates in both Gunnison and Crested Butte schools. Like many similar programs around the country, Mountain Roots Farm to School program uses hands-on experiential education, including school gardens, farm field trips, chef visits, and cooking classes to help teach nutrition, science, math and environmental science. The supplemental lessons help teachers fulfill those subject area requirements. This fall, for example, kindergartners and third graders will learn how to collect seeds and save them for spring planting in the schools' gardens. It's an activity that explores the larger subject of life systems.
And if sponsors line up, Mountain Roots will install a sensory garden at Crested Butte Community School. A sensory garden invites children to experience plants and natural spaces through all five senses. With specially selected plants and design elements, like wind chimes, fluttering silks, or water features, a sensory garden immerses visitors in fragrances, sounds, colors, textures, and movement. It's especially beneficial for children with special needs.
"When kids learn through hands-on lessons, they get a personal experience of the subject matter that is much deeper than if learning only from a book, and the knowledge stays with them much longer … it becomes part of their lives," explains Mountain Roots Executive Director Holly Conn. For the next three years, select grades in Crested Butte and Gunnison schools are working with Mountain Roots to pilot new Environmental Education lessons that use the garden, guest chefs, farm field trips, and other hands-on experiences to teach state standards.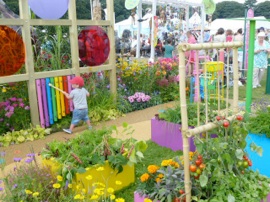 Kids don't necessarily care whether it's part of a curriculum or not. Kids dig Farm to School because they get to dig in the dirt, explore nature close-up, and have fun. Learning life skills is just one of the program's positives offshoots.
Our young market manager Lillian said she loved cooking from scratch and harvesting for people in need. But what's her favorite part of Farm to School?
"I liked selling the vegetables and seeing what people like to eat," Lillian said. "Now, I really want to have my own store."
Cassie Pence is president of the board of Mountain Roots. To learn more about the organization or to become a member, visit www.mountainrootsfoodproject.org.