ADVISORY – FOR IMMEDIATE RELEASE                                                                                                          May 18, 2018            
What: Western Slope Solar Fair & Permaculture Expo
When: May 19, 2018 from 11 am until 7 pm
Where: Solar Energy International, 39845 Mathews Lane in Paonia, Colorado
NOTE: This event will include excellent photo and video, as well as audio and interview, opportunities with a fun, colorful, and jamming community parade at 2 pm. 
Solar Fair & Permaculture Expo
Energizing Our Future: Sustaining Action, Building Resilience, Powering Community
Paonia, CO – As the weekend approaches, all the final arrangements are in place for the biggest, boldest festival yet in its four-year history: Hosted as a fund-raiser by the Colorado Farm & Food Alliance, Solar Energy International, and The Learning Council. A suggested $5 per person donation is requested at admission.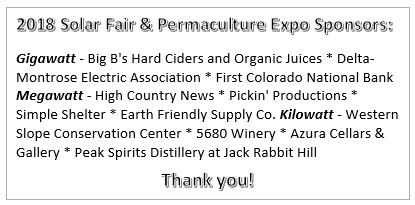 Participants will be able to enjoy a full day of live music, exhibits, grassroots activism, and workshops along with some of Colorado's finest craft beverages—from award-winning producers including Big B's Organic Hard Ciders & Juices, 5680 Vineyards, Azura Cellars, Palisade Brewing, Remedy, and Peak Spirits Distillery. Hand-crafted locally-sourced food will be available for purchase from Blessed and the Living Farm Café. No outside alcohol please.
Workshops include Permaculture Design with Wind Clearwater (11:30 am); Introduction to Micro-hydro with Ken Gardner (1:00 pm); ABC's of Biodynamics with Pat Frazier (2:30 pm); and Basics of Solar with Peter Mueller (4:00 pm).
Exhibitors are Alasta Solar Center, Empowered Energy Systems, Solar Energy International, Valley Organic Growers Assoc., Paonia Soil Co, Earth Friendly Supply Company, Colorado Farm & Food Alliance, The Learning Council, Viva la Vida Foundation, First Colorado National Bank, North Fork Ambulance Association, The Hive, Textiles of Taquile Island, Optibike, Elsewhere Studios, North Fork Valley Community Rights Advocates, National Wildlife Federation, Citizens for a Healthy Community, Citizens Climate Lobby, and the Western Slope Conservation Center.
Door prizes for walkers, bikers, riders of the free shuttle from town – running on the half hour starting at 11 am, picking up at Grand Avenue and 1st Street in Paonia. Fair Parking is available at the rodeo grounds, just west of the SEI campus, and across the railroad tracks and Mathews Lane. Return to site via a ten-minute walk, or on the shuttle. On-site parking is limited to those with special needs.
The festival gates open to the public at 11:00 am, and music starts at 11:15. Bring lawn-chairs, sunscreen, sun-hats, and water bottles. No outside alcohol permitted.
To view stage schedule, information on musical acts, workshop descriptions, and additional information visit www.ColoradoFarmFood.org/SolarFair2018.
#  #  #