Members are Investing in a sustainable food future
A national poll funded by Kellogg last month indicates that nine out of ten Americans support farm to school programs. But according to the USDA's 2014 Farm to School census, only about 44% of schools have them. And while at least 16 other states fund farm to school programs, Colorado does not—yet.  For the near future, the message is clear: If we want better food and education for our kids, it's up to us.
While Michele Obama's new standards are indeed changing school food, farm to school programs go further by empowering students to take healthy eating into their own hands in two important ways: by putting more fresh produce and other local food options in cafeterias and by linking those changes with food education opportunities that expose students to gardening, and cooking, and environmental education.
Mountain Roots' Farm to School program is younger than most and smaller than most, but the small number of activities the organization has been able to provide using volunteer power and a relatively small budget have generated an overwhelmingly positive response from kids, teachers, and parents.  "We've grown a bit and we've learned a lot. We celebrate small successes.  Now it's time to make a bigger impact," says Executive Director Holly Conn, who was recognized by Colorado Farm to School in 2013 as a 'Champion for Change.' "We're shifting to a systems perspective, working to make changes in the food system as a whole. We need steady financial support and a stronger voice from the community to advocate for the changes you want to see."
Such scaling up is to be the hallmark of the organization's maturation in the next few years. Philanthropy has a critical role in moving those changes along, and community support is the key.
The Community Foundation of the Gunnison Valley has been supporting Mountain Roots Farm to School since 2010. Executive Director Pam Montgomery mentions health and food equity as top reasons. "Our active lifestyle leads to an assumption of "health."  But eating habits don't necessarily follow our activities, especially for families living on low or fixed incomes where buying fresh food is not within budget limits.  Having healthy food in our schools ensures that all of the Valley's kiddos have the nutrition they need for optimal learning."
More people are talking about regional food systems, not just local food. The idea of examining issues of economics and social justice along the entire food chain, not just at the consumer end, is gaining ground. With the systems perspective and integrated programming, Mountain Roots seems to be on the leading edge of a sea change, and it's gaining attention at the state and national levels. In past years, they've won competitive grants from national organizations including the American Academy of Nutrition and Dietetics, Captain Planet Foundation, the National Audubon Society.  This school year, they've caught the attention of The Culinary Trust.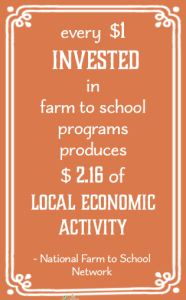 The Culinary Trust is a national organization founded by Julia Child in 1984, whose trustees include celebrity chefs Emeril Lagasse and Jacques Pepin, along with the culinary director of the Culinary Institute of America, and other industry leaders. Seeking to support change in critical issues in the world of food, The Culinary Trust launched a nation-wide grant program in 2015, awarding $5,000 grants to just two innovative food-issues programs leading the effort. Mountain Roots was one of them.
"We selected the Mountain Roots Project as our very first Growing Leaders "Future of Food" Project Grant because its mission resonated with us and we believe it has great value," explains Laura Atkinson, spokesperson for the Culinary Trust Growing Leaders Fund Advisory Committee.   "We are especially impressed with how involved Mountain Roots is with both the population it serves and the broader community, and that there is great community support in return for its work. We believe this is a powerful, impactful project that has established strong roots toward longevity and success."
Locals Jason Berv and wife Sumaya Abuhaidar, agree.  "Mountain Roots has consistently done an outstanding job serving its mission and having a significant community impact far beyond its small but growing budget with a deeply committed team of board, staff, and volunteers.  Mountain Roots is action-oriented and a real asset to the community."
Scott and Stephania Timothy moved to Gunnison Valley with their two boys in 2014. Both are doctors –Stephania is a General Surgeon, and Scott runs a private practice, Ragged Mountain Physical Medicine and Rehabilitation.  "When we moved to the valley, it was refreshing to see Farm to School was here, and to see the emphasis placed on nutrition and health in schools," says Steph. "This is such an important program to both the kids in our schools and to our community. The impact is much broader than just the kids – the education goes through to the family." "We know how important food and nutrition are," adds Scott.  "It impacts a child's whole day. It's especially important for kids who don't have these positive influences on health and learning at home. It decreases their struggle."
County Commissioner Jonathan Houck supports Mountain Roots because Mountain Roots is reconnecting and engaging both kids and adults in our community to sustainable agriculture. "Gunnison County has a long standing and proud agricultural history," he says, "and it is good for our kids and our schools to support that and keep it going. Farm to school makes those relationships real and enduring."
"I grew up on a farm," says donor Brian Hough, owner of Castle Creek Guitars in Gunnison, "things have changed a lot since then. Getting kids to get their hands in the dirt is a good thing – they just don't get that much anymore."
Philanthropy comes in all shapes and sizes. This spring, landscaper Daniela Runge donated a crew of four for a half-day's worth of work. "We get loads of compost, wood chips, building materials, and even plants donated all season long," says Sasha Legere, the Garden Coordinator for the Giving Garden at Bill's Park in Gunnison. Donations of goods and services, called 'in-kind donations' in the non-profit world, have a significant impact because they offset costs, freeing up funds for other uses. This is good news for people who want to move the project forward, but have more restrictive cash flows.
Margaret and Mike Loperfido of Crested Butte support Mountain Roots with an automated monthly donation. "We hardly notice the $20 that comes out of our account every month – it's less than the cost of a pizza – but we know it makes a big difference to Mountain Roots to have the on-going support."
Board President Cassie Pence explains the ripple effect donors can have in the community: "When you support Mountain Roots' Farm to School Program, you're working to source more local, fresh, homemade food for school cafeterias. You're creating markets for the 'disappearing middle' sized farmers, and helping to attract young people to farming. You're greening school grounds. You are providing students with hands-on experiences in gardens, field trips to farms, and cooking lessons. This is dynamic, life-long education that cultivates life skills in health, science, agriculture, and environmental stewardship. It fosters sustainable living and makes learning come alive."
Mountain Roots membership drive is open. Individual or family members memberships provide sustaining support on an annual or monthly basis. Mountain Roots is offering the following new-member bonus gifts for new monthly members: organic canvas tote bags, organic T shirts, organic seed gift boxes, and a 'Roots' cookbook by Diane Morgan. Information on membership can be found at mountainrootsfoodproject.org.
Investing in farm to school today creates not only a healthier generation now, but one that will grow into informed consumers who value farmers, local food system and an authentic, sustainable way of life.