FOR IMMEDIATE RELEASE: April 26, 2018
4th Annual Western Slope Solar Fair & Permaculture Expo brings seven top acts to stage at Solar Energy International in Delta County's North Fork Valley
Fundraiser hosted by Solar Energy International, Colorado Farm & Food Alliance, and The Learning Council
PAONIA, CO. – The hosting organizations behind the Solar Fair & Permaculture Expo, held for its fourth time on May 19 this year are honored to announce this year's line up of live music, from 11:15 until 6:45 pm on the campus of Solar Energy International.
The event runs from 11 am until 7 pm and serves as a popular kick off to the Valley's festival season. A $5 per person donation is suggested.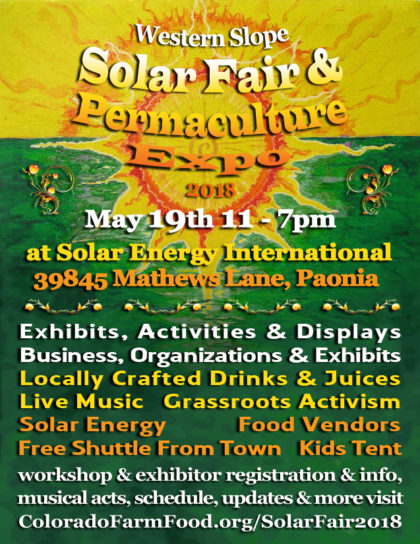 In addition to live music, our Eat & Drink Local Station will be serving up local food and craft drinks—available for purchase. Workshops on Permaculture design, Solar energy, Micro-hydro systems, and Biodynamics and exhibits from area nonprofits, businesses, and organizations round out the event. A kids' tent and other activities makes this an all ages event.
Sponsors that underwrite and provide support for the event include Big B's Juices & Hard Ciders, First Colorado National Bank, Delta Montrose Electric Association, Pickin' Productions, Simple Shelter/ECO Design & Build, High Country News, Azura Cellars & Gallery. The hosting groups join with the community in thanking them for their contribution.
More information and details can be found online at www.ColoradoFarmFood.org/SolarFair2018. Please also find below a musical schedule, biographies, and pictures of the musicians and performers.
# # #
Live Music – Stage Schedule
Stage times and schedule subject to change
The 4th Annual Western Slope Solar Fair & Permaculture Expo is a fundraiser and community event hosted by Solar Energy International, The Learning Council, and Colorado Farm & Food Alliance.  It serves as a celebration, educational forum, and community engagement opportunity at the start of the North Fork Valley's festival season.
The Solar Fair combines music, local food and craft drink, and workshops, exhibits, and other ways for participants to get informed and take action. A $5 per person donation is suggested, and food and drinks are available for sale on site.
Visit www.ColoradoFarmFood.org/SolarFair2018 for the latest information and full details. Free shuttle provided from town, with door prizes for shuttle riders, bicyclists, and walkers.
Solar Brothers     11:15 am
The Solar Brothers abide, and live up to their name, both living "off the grid" for almost twenty years.  They will be kicking off the Western Slope Solar Fair & Permaculture Expo for the third year in a row.
Also known around the world, or at least in Delta County, as Paul Frazier & Roy Martin these local favorites will bring their diverse musical styles that blend folk, country, blues, pop and Americana.
The Solar Brothers are known for their tight vocal harmonies over a foundation of flat picking and finger picking guitars and mandolin. Their first CD project of original songs, recorded at David Starr Studios was released in 2015. For more information, visit their Solar Brothers Facebook page.
Sam Heart                                                                      12:30 pm 
Born in England Sam "sang from birth".  He moved to America at the age of 3, grew up in Colorado and began learning guitar and piano as a child. Sam has been the lead singer in several bands, from large dance bands and smaller acoustic groups, to solo acts and acapella performances. Spending 5 years in Oklahoma, He was a weekly performer for several years crooning jazz standards in the style of Frank Sinatra, etc. With musical influences including Jazz, Soul, Blues, Gospel, Rock, and Country, Sam's vocals stand out as a highlight in his performances. He is most at home with a guitar in his hands belting out soulful covers and originals.
Melanie Jean                                                     1:15 pm 
Melanie Jean, a former elementary school music teacher from New Mexico, stumbled upon Paonia in 2014 while touring with The Dames, an all female quartet. Before long it was home.
Since then she's collaborated with western Colorado musicians including Gabrielle Louise, Brodie Kinder, and Justin Thompson and local bands like The Scones. She just recently started writing her own music. Aside from performing, she's found a niche in the North Fork Valley's non-profit scene, serving as music director for Mountain Harvest Festival and as an advocate for Arts For All.
North Fork Valley Community & Parade Band            2:15 pm 
The multi-award winning North Fork Valley Community & Parade Band has been groovin' locally since 2015. It is a mixed ages band (sponsored by The Learning Council) meeting in Hotchkiss. They play a wide range of different types of fun and funky music on the bandstand and on parade. People need to get ready to get up and to get down when the Community & Parade Band shows up.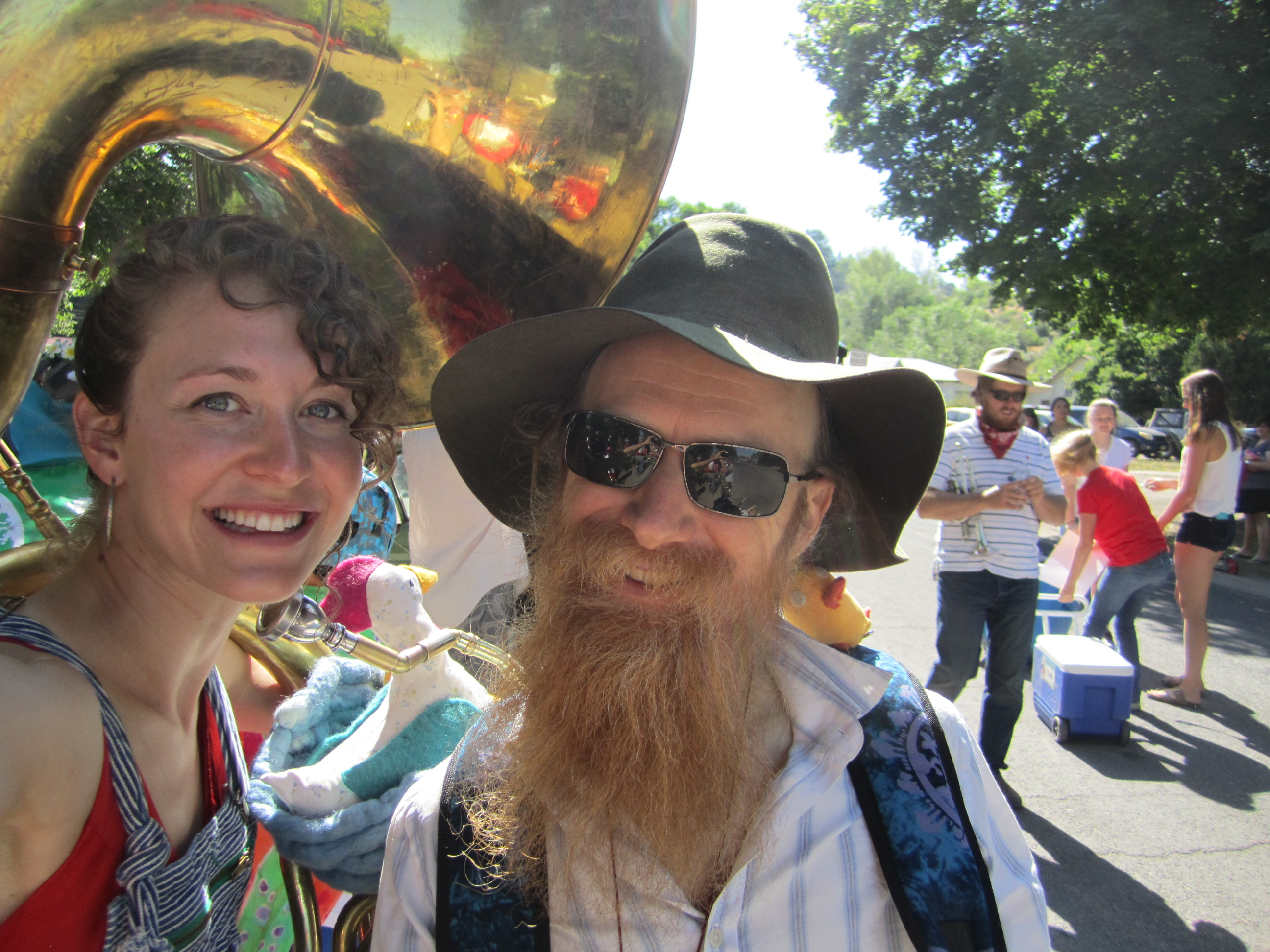 Co-director Jeannette Carey is the Choral and Band Director at the Hotchkiss K8 and Hotchkiss High School. She sings as well as plays the flute, marimba and sousaphone. Co-director David Alderdice is the founder and lead teacher of the Embodying Rhythm School of Percussive Arts and is the Artistic Director of the World Music Concert Series at the Paradise Theatre. He composes and arranges music as well as plays drums, percussion, marimba, and melodica in different music groups including FEAST and the Embodying Rhythm Marimba Ensemble.
The Kebler Elves                     3:05 pm 
Dylan Fixmer, Lizzy Plotkin, and Jon Hickam are three highly accomplished musicians who bring the finest in Americana, bluegrass, old-time and swing music together from both sides of the Pass.
Lizzy, who grew up in Nashville and lives in Crested Butte is a co-founder of the acclaimed Colorado folk trio Free the Honey. She began learning music "in utero" and started taking violin lesson at the age of 4, on her own initiative.
Known locally as the band leader of the Grizzly Pears, the North Fork's own farmstead cabaret super group, Jon is a multi-instrumentalist, song writer, arranger and Solar Fair favorite. Their set this year is sure to be a not-to-be-missed performance.
Ky Burt                                    4:15 pm 
Back for an encore performance at the Western Slope Solar Fair, Ky Burt is in the Valley as part of a mini-tour around the American West.
Born in the midwest to a long ancestry of craftsman, farmers, writers, and tinkerers, Ky Burt has been seeding his own unique craft through the art of song. His lyrics tell a story of miles traveled, landscapes gone by, lovers won and lost, and the search for a sense of place in modern times.
Ky is a trained environmental scientist, having spent years working on watershed management and habitat renewal. He is in full support of efforts to protect and preserve the environment and build more resilient, sustainable communities.
In 2015 Burt released his debut EP 'The Moon and The Sea' to critical praise from the well-known roots music magazine, No Depression (see full review here). He is currently recording his debut full-length album with producer Tyler Fortier for release in the Fall of 2018. The Solar Fair is very excited to welcome Ky back to western Colorado.
Jericho                                     5:30 pm 
Closing out their second fair, Jericho is a band beyond description. Mixing styles, backgrounds, and personalities Jericho and their music reflect the diverse collection of creative talent and free spirits of Colorado's North Fork Valley.  This Paonia-based band is sure to bring the 4th Annual Solar Fair & Permaculture Expo to a fun finish and jamming finale.