North Fork Solar Fair and Permaculture Expo in Paonia, Colorado
May 13 from 4:30 until 9:00 PM at Solar Energy International
This Year's Theme: Cultivating Community and Homegrown Energy
PAONIA CO – Since soon after the earliest settlers moved into Colorado's North Fork Valley it has relied on two major forces to drive its economy: energy and agriculture.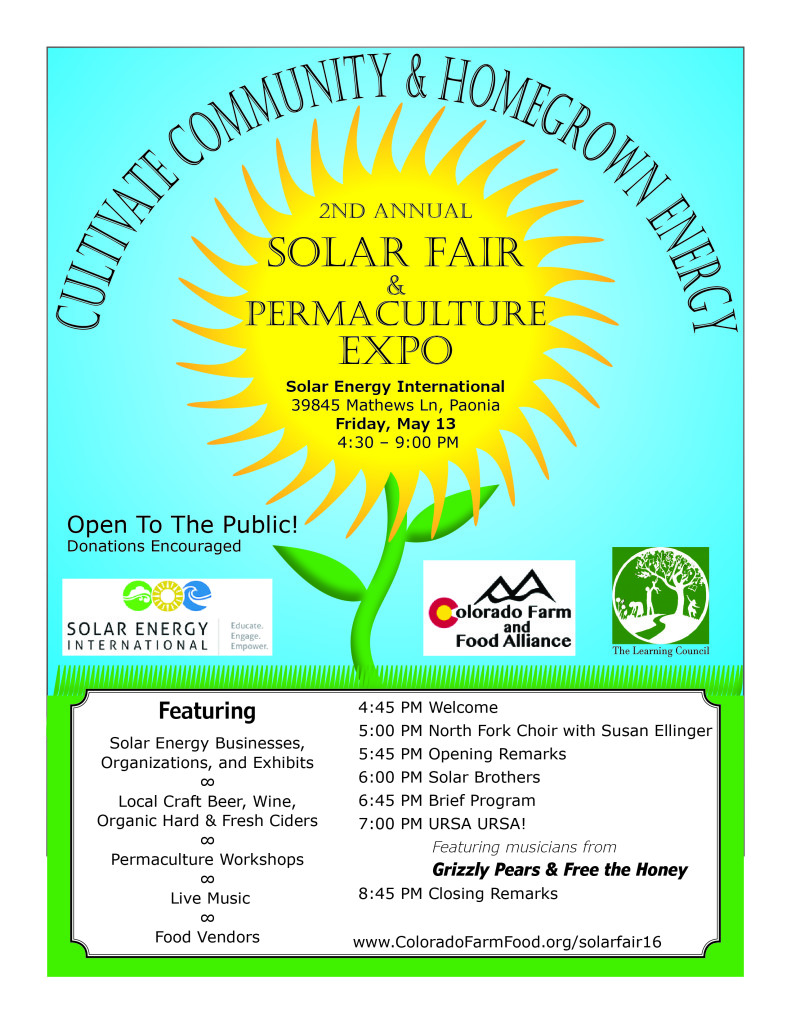 The North Fork Solar Fair and Permaculture Expo wants to build on this heritage. The event, open to the public by donation, will feature local music, craft beverages, delicious farm-fresh food, door prizes, and exhibits on solar energy. This year will also have workshops and exhibits on permaculture, biodynamics, and gardening techniques and tips to attract bees and to mitigate for climate change.
Colorado's North Fork Valley is an area in transition still firmly rooted in its small-town, rural past. Home to orchards since the first white residents in the 1880s and a coalmining community since soon thereafter, change has often come slowly to the area. Or all at once as commodity markets stumble. The most recent downturn has idled local mines, and spurred numerous discussions about ways to have a robust economy, engage the future, honor the community's roots, and protect the quality and character of a cherished place.
The North Fork is also home to Solar Energy International, one of the world's leading training institutes for solar energy and alternative power systems in the world—and currently leading a collaborative project to "Solarize Delta County." The North Fork is served by the Delta Montrose Electric Association, a member-driven coop committed to putting more locally generated power on the grid.
The North Fork – called "Colorado's Farm-to-Table Capital"—includes the state's highest concentration of organic and sustainable farms, an acclaimed set of wineries and tasting rooms, a growing hops industry, world-famous fruits, specialty dairies, and prized ranches. These trends point to a way forward that is not a break from, but rather an extension of the North Fork's proud history. That is the premise behind this year's North Fork Solar Fair and Permaculture Expo: Cultivating Community and Homegrown Energy.
The event will be a fun and festive opportunity to celebrate the North Fork, to mingle and enjoy local food and drink, meet interesting people, learn about new things, and take steps to being part of the solution. Enjoy great local music including URSA URSA! a delightful ad hoc collection of musicians featuring members of the Grizzly Pears and Free the Honey, the acoustic stylings of the Solar Brothers, and an inspirational opening set by the North Fork Valley Exploratory Chorus.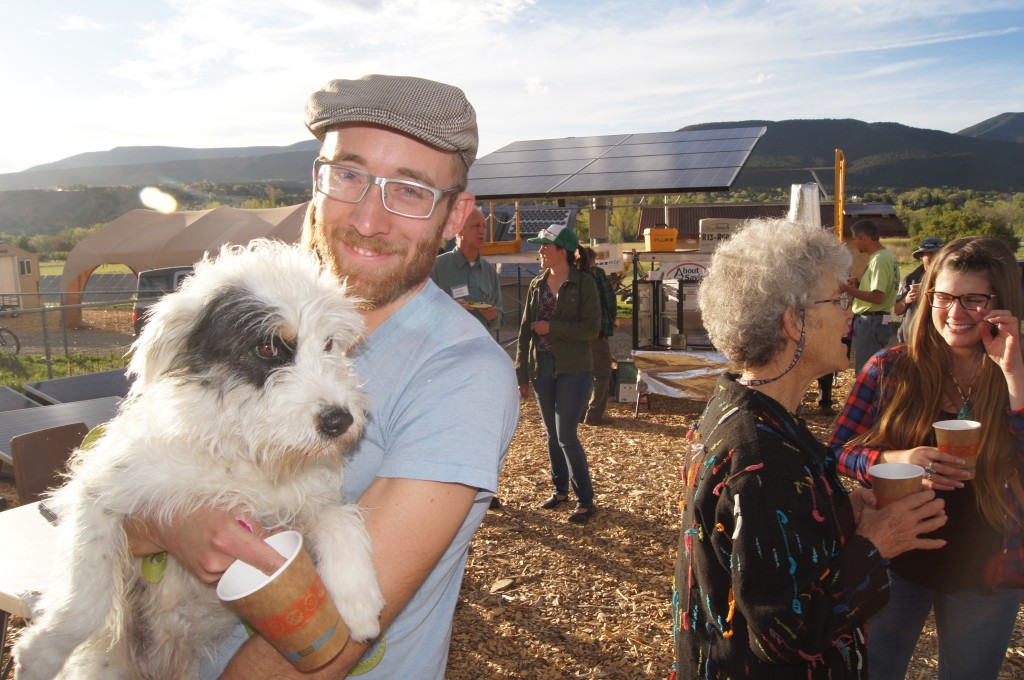 Exhibits feature solar companies and organizations, local nonprofits, and the area member-owned electrical cooperative. Exhibitors can reserve a space until May 9th for a small fee at www.coloradofarmfood.org/solarfair16 by following the Exhibitor Registration/Google Forms link.
The Solar Fair is hosted by the Colorado Farm & Food Alliance together with The Learning Council and Solar Energy International (39845 Mathews Ln, Paonia 81428) where it takes place. The Learning Council is a community organization providing educational options, celebrating the Arts and Agriculture. Solar Energy International provides industry-leading technical training and expertise in renewable energy to empower people, communities, and businesses worldwide. The Colorado Farm & Food Alliance connects people from farm-to-table by engaging Colorado's local farm and food proprietors and aficionados as leaders in sustainability and environmental action.
The North Fork Solar Fair is open to the public, donations are encouraged to cover the cost of the event and support our sponsors. Food, drink and similar items are separate, and also benefit the organizations hosting the event. A schedule and other information is at www.coloradofarmfood.org/solarfair16.