Back for its THIRD YEAR at SOLAR ENERGY INTERNATIONAL
With LIVE MUSIC by The Solar Brothers, Jon Hickam & Hickam Family Band, Beth Quist, Sam Peart, Jeanine Renee and Nobody's Fool, RARE, and Jericho
Mark your calendars for May 20 > > Destination Paonia, Colorado.

West Slope Solar Fair & Permaculture Expo
is back and bigger than ever!
The West Slope Solar Fair & Permaculture Expo is a celebration, education, and opportunity for action all in one–hosted by the Colorado Farm & Food Alliance, The Learning Council, and Solar Energy International (SEI). It is a by-donation event with a suggested $5 entry contribution.
Live music, people, local food and craft drink make the event a celebration of the North Fork's hospitality at the start of the season. And with exhibits from area solar businesses, Colorado nonprofit and grassroots groups, and sustainable farming and permaculture associations, plus informative workshops and innovative demonstration stations—the event brings creative thinking and lots of ways to learn.
And true to its roots in a 2015 Western Colorado Climate Summit, the event remains an opportunity for taking action. Throughout the day and around the fair, participants will be encouraged to take steps toward increased sustainability, conservation, climate action, and clean energy. Door prizes will be awarded to attendees throughout the day.
Celebrating Action, Energy and Sustainable Community
WESTERN SLOPE SOLAR FAIR & PERMACULTURE EXPO
Saturday, May 20 in Paonia, Colorado
Join us for a day of fun in the sun, sustainability and community empowerment! Visit our Facebook event page for schedules, workshops, updates, and local information.
Workshops & Demonstrations: Edible Landscaping, Permaculture Design, Off-Grid Living, Soil-Building, Mushroom Cultivation, Compost Heating & More!
** ACTIVITIES ALL DAY **
Start off the day with a Celebration of Colorado Public Lands Day with a walk at Paonia River Park with a short program, and special guests hosted by the Western Slope Conservation Center
~ 9:00 AM – 11:00 AM ~
River Walk at Paonia River Park
~ 12:00 Noon – 8:00 PM ~
Event grounds open to public at 11:45 AM
Solar Fair & Permaculture Expo at Solar Energy International
Gates Open at Noon ~ Site Closes at 8 PM
Door Prizes * Scavenger Hunt * Grassroots Activism
Live Music * Local Food & Craft Drinks * Kids' Tent
Workshops, Exhibits & Demonstration Stations
Special thanks to our sponsors!
First Colorado National Bank, Pickin' Productions, Big B's Ciders & Juices
Watch this page www.ColoradoFarmFood.org/SolarFair17 for updated exhibitor information, event and activity schedules, musical acts, area lodging suggestions, and more!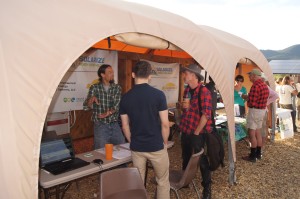 Stage Schedule
Thanks to Pickin' Productions for underwriting our 2017 stage & program
Very excited about this year's line-up, with music all day
12:00 Noon – Event Opens ~ with the Solar Brothers
1: 00 PM – Jon Hickam & Hickam Family Band
2:00 PM – Beth Quist
3:05 PM – Sam Peart
4:10 – Jeanine Renee & Nobody's Fool
5:15 PM – RARE
6:30 PM – Jericho
8:00 PM Event Closes ~ Travel well
Workshop Schedule
$10 Suggested Donation for Workshops

12 Noon
Introduction to Permaculture with Wind Clearwater

1:15 pm
Permaculture Design – Putting the Right Thing in the Right Place with Aaron Jerad

2:30 pm
Off-Grid Farming & Living with Pat and Paul Frazier of Peace & Plenty Farm

3:45 pm
Edible Landscaping with Wind Clearwater
Menu ~
Think Global ~ Eat Local ~Act Now
Food by The Learning Council, Delicious Orchards, and BLESSED ~
The Learning Council-
Nori rolls
Rice paper salad wraps with peanut sauce
Side salads
Cookies
Treats (sugar free)
Lemonade
Delicious Orchards-
Homemade tamales with chili
Brats
Smoked turkey legs
sides/ Chips, coleslaw, potato salad
Ben and Jerry's ice cream cups
Big B's juice
BLESSED-
BUDDHA BOWL
GROUNDINGS (PICK 2 or 3)
Fragrant Jasmine Rice
Roasted Sweet Potatoes (with coconut oil + pink salt)
Five-Spice Black Beans
Savory Root Medley (Russet Potatoes + Vidalia Onion +
Carrots + Celery + Garlic)
Raw Power Greens
ENLIGHTENMENTS (PICK 4)
Raw Red Cabbage + Lemon
Organic Cherry Chutney
Probiotic Sauerkraut
Fresh Cilantro
Tumeric Cucumber Pickle
Spring Radish
Raita (yogurt, herbs, cucumbers)
SIDE BOWL (PICK 1 BASE + 2 TOPPINGS)
Hibiscus Kombucha
Apple-Cheery Keifer Water