Western Slope Solar Fair & Permaculture Expo
May 19, 2018 11 AM until 7 pm at Solar Energy International 39845 Mathews Lane Paonia, Colorado
Energizing Our Future: Sustaining Action, Building Resilience, Powering Community
PAONIA, CO – The grounds of Solar Energy International in Delta County will again host the Western Slope Solar Fair & Permaculture Expo a celebration, exhibition, and educational event all in one. The 4th Annual Western Slope Solar Fair & Permaculture Expo will be May 19, from 11 until 7 pm at the SEI campus, located just outside of Paonia, Colorado.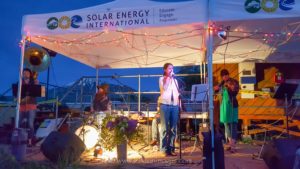 This event at the start of the North Fork Valley's festival season features live music all day, delicious local food and craft drinks, and exhibits on solar energy, organic farming and permaculture, and conservation from local businesses and area nonprofit organizations. There are workshops and opportunities to learn, as well as the chance to act on important issues facing western Colorado.
The Solar Fair & Permaculture Expo is hosted by the Colorado Farm & Food Alliance, The Learning Council, and Solar Energy International, and is open to all ages. A $5 per person suggested donation pays for the music and event, with quality local food and drink available for purchase on site benefiting the hosting organizations. Sponsors and exhibitors also help support this event and the work of the host organizations.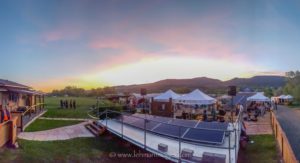 A free shuttle will run from the Town of Paonia. Anyone that shuttles, walks, or bikes to the fair will be eligible for special recognition, beyond general karma points. Parking is limited to the nearby rodeo ground.
Information on musical performers, workshops, shuttle, local lodging, and more, plus our delicious "eat and drink local" line-up will be posted as available here.
THANKS TO OUR SPONSORS!
Gigawatt – Big B's Hard Ciders and Organic Juices * Delta-Montrose Electric Association * First Colorado National Bank
Megawatt – High Country News * Pickin' Productions * Simple Shelter * Earth Friendly Supply Co.
Kilowatt – Western Slope Conservation Center * 5680 Winery * Azura Cellars & Gallery * Peak Distillery at Jack Rabbit Hill

Sponsorship opportunities still available
Exhibitor space SOLD OUT 

Music from 11 am until 7 pm!
Jericho
Ky Burt
The Kebler Elves
North Fork Valley Community & Parade Band
Melanie Jean
Sam Heart
Solar Brothers
Check out the musical schedule and information about our performers here. 
Workshops 
11:30 am – Permaculture Design with Wind Clearwater 
1:00 pm – Introduction to Microhydro with Ken Gardner 
2:30 pm – ABC's of Biodynamics with Pat Frazier 
4:00 pm – Basics of Solar with Pete Mueller 
You can visit our Facebook event page here.