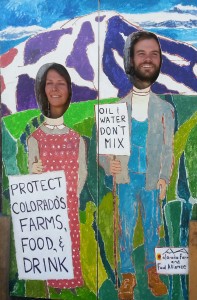 The Colorado Farm & Food Alliance is going on the road!
In August and September, the Alliance and its partners will be showing up at Farmers' Markets and other events to gather support for our 'What We Support' statement and build a collection of photo supporters.
Look for our colorful display, come meet some of our friends and partners, and add your support.
Schedule (updated 8/13/2014) – Subject to Change
September 14: Roaring Fork Valley – Basalt Farmers Market
September 26, 27, 28 – Mountain Harvest Festival, Paonia: Come Find Us in Town park!
October: Front Range, details to be announced